SPIN WHEEL GAME

The Rotating Wheel for our game has 10 sectors as shown in Figure 1 and 7 color groups. Figure 1 is just a sample to illustrate that each sector has a number appearing on it and in the center is the text "SPIN CG?". Clicking in the center will spin the wheel and CG abbreviates COLOR GROUP. The ? will be replaced by integers from 1 to 7 to carry out the steps in the game.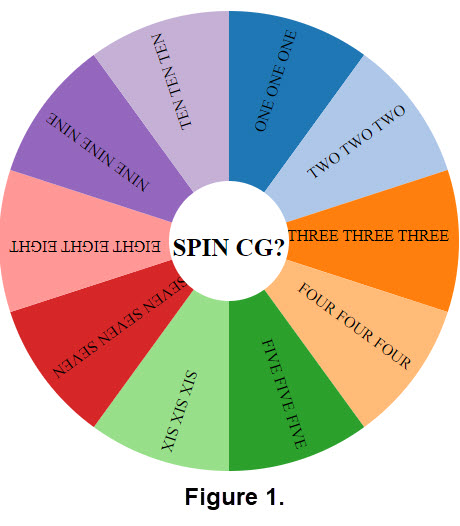 We have a spin wheel that can produce an image like Figure 1 but you must choose the color group by entering data. The data is an integer from 1 to 7 that selects the color group. There will be a drop down window with these instructions. To use this feature click here: SPIN WHEEL with COLOR GROUPS. You can click SPIN more than once. Give it a try! If you do this you, you need too return to this html file to click SPIN WHEEL with COLOR GROUPS to produce another image. Consider using the left arrow at the top left side of your browser.
In order to play our game you would need to execute the SPIN WHEEL 7 times to determine each of the outliers for the color groups. To make it easier we have an arbitrary image for each of the color groups. Each of the images is a thumbnail that when you click it shows an image. This feature will be easier to use. The thumbnails are shown in a box below. When you view the thumbnail record the number of the color group and the number on the sector (use the corrresponding digit, not the text name) on the spinwheel that you think is the outlier for that color group. RECORD the information since you will need these items to make a check that you made the correct choice. Do this for each color group. There is a check feature below. Carefully read the directions.
Wheel with color group 1:

Wheel with color group 2:

Wheel with color group 3:

Wheel with color group 4:

Wheel with color group 5:

Wheel with color group 6:

Wheel with color group 7:

.

=====================================
=====================================
David R. Hill, mathdemos.org